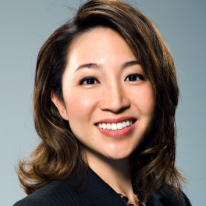 Peggy Liu is chairperson of JUCCCE, a nonprofit dedicated to accelerating the greening of China through systemic changes in sustainable cities, consumerism, the smart grid, and multi-sector convening power. Peggy is internationally recognized for her expertise on China's sustainability landscape and for fostering international collaboration with China.
Peggy created the China Dream initiative to reimagine prosperity for sustainable consumerism, and in 2013 she launched China's first kids' healthy food curriculum initiative. Peggy is a professor at China Academy of Governance and since 2008 has trained over 1,000 mayors and central government officials on how to build eco-livable cities.
She has served as a business advisor to Marks & Spencer, HP, Unilever, Danone, FTSE, and World Economic Forum on business with social purpose. Peggy has also advised EAT Forum on Food, the Clinton Global Initiative on clean energy, and The Hillary Institute on climate change. Peggy has received numerous accolades, including Time Magazine's Hero of the Environment, World Economic Forum's Young Global Leader, and Forbes' "Women to Watch in Asia." She is a regular judge for The Hult Prize on social entrepreneurship and the Circulars at Davos for circular economy.
Sign Up For Our Newsletter