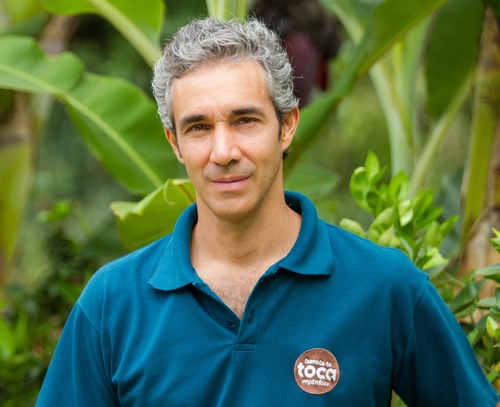 Founder, Fazenda da Toca and Instituto Toca
Pedro Diniz is an agroforester, businessman, and former Formula 1 racing driver. Pedro transformed his family farm into Fazenda da Toca, a large-scale organic farm in Brazil's São Paulo state, and one of the country's leading producers of organic eggs, dairy, and fruit. The farm makes use of agroforestry methods to grow a variety of trees that help to balance required biomass production with the nutritional needs of crops and animals. Pedro looks at Fazenda da Toca as a replicable model for large-scale egg, dairy, and fruit production using ecological methods.  He is hopeful that through large-scale organic and biodynamic production of healthy plant and animal products, the farm will become a catalyst for sound rural development and environmental regeneration in Brazil and beyond.
Through the farm, Pedro established the Instituto Toca, a non-profit school and research initiative that aims to "educate to transform" by providing direct instruction on sustainability to students in the local municipality.
Pedro serves as a Board Member and Shareholder for Peninsula Participações. He also served as a Board Member for Grupo Pão de Açúcar for ten years. He is the founder of PPD Holding, an investment company focused on conscious investments.
Join Us
Register to receive our email newsletter.