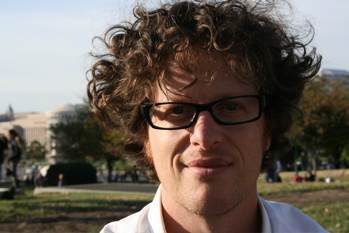 Film Director and Producer, Carbon Nation
Professor, ASU Schools of Sustainability and Journalism
Peter Byck has more than 20 years of experience as a film director and editor. His first documentary Garbage won the 1996 South by Southwest Film Festival Jury Prize, and screened in scores of festivals in the U.S. and Europe.
Byck has edited short documentaries for Peter Jackson's last two films, Lord of the Rings and King Kong, and has worked as an editor or director for documentaries and promotional shorts for Warner Bros., Universal Pictures, 20th Century Fox, MTV, Vh1, BBC, Disney, and MGM. Byck has also worked as an editor or director on shows including The West Wing, The Matrix, Scrubs, and ER.
Byck has presented his most recent documentary Carbon Nation, a film about climate change solutions, for Boeing, Nike, Google, Microsoft, Walmart.com, SC Johnson, Stonyfield, Carbon War Room, Shell, White House CEQ, CarbonTrade Ex, NetImpact, Social Venture Network, AREDAY, Metcalf Institute at University of Rhode Island, PEW-BICEP, Prince Charles' B.E.P. program at Cambridge University, R.I.S.D., Art Center (Pasadena),Yale University, Conservation International, Louisville Fund for the Arts, and many more across the U.S. and internationally.
Peter is also a professor at Arizona State University, with appointments as a Senior Sustainability Scientist at the Julie Ann Wrigley Global Institute of Sustainability, a Professor of Practice at the School of Sustainability, and a Professor of Practice at the Walter Cronkite School of Journalism and Mass Communications.
In 1986, Peter received a Bachelor of Fine Arts from California Institute of the Arts.
Join Us
Register to receive our email newsletter.